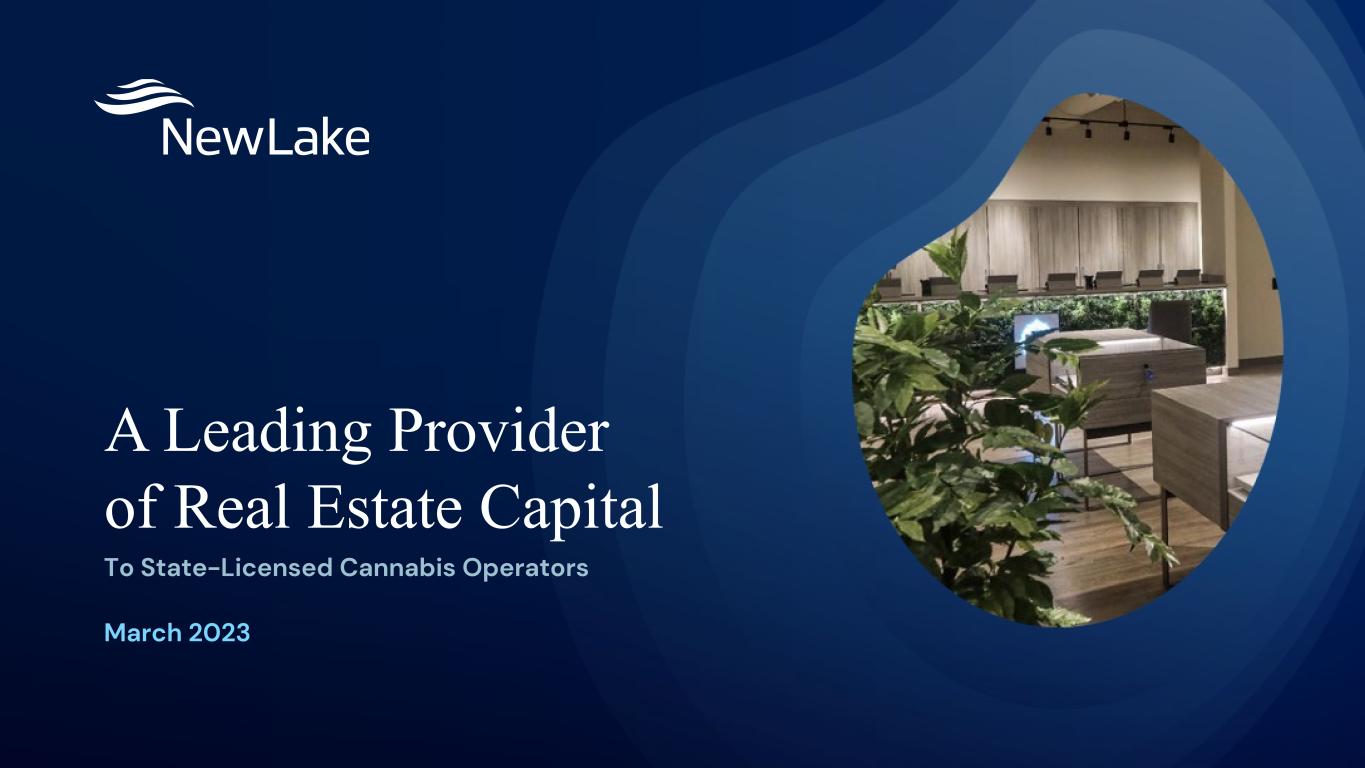 A Leading Provider of Real Estate Capital To State-Licensed Cannabis Operators March 2023
---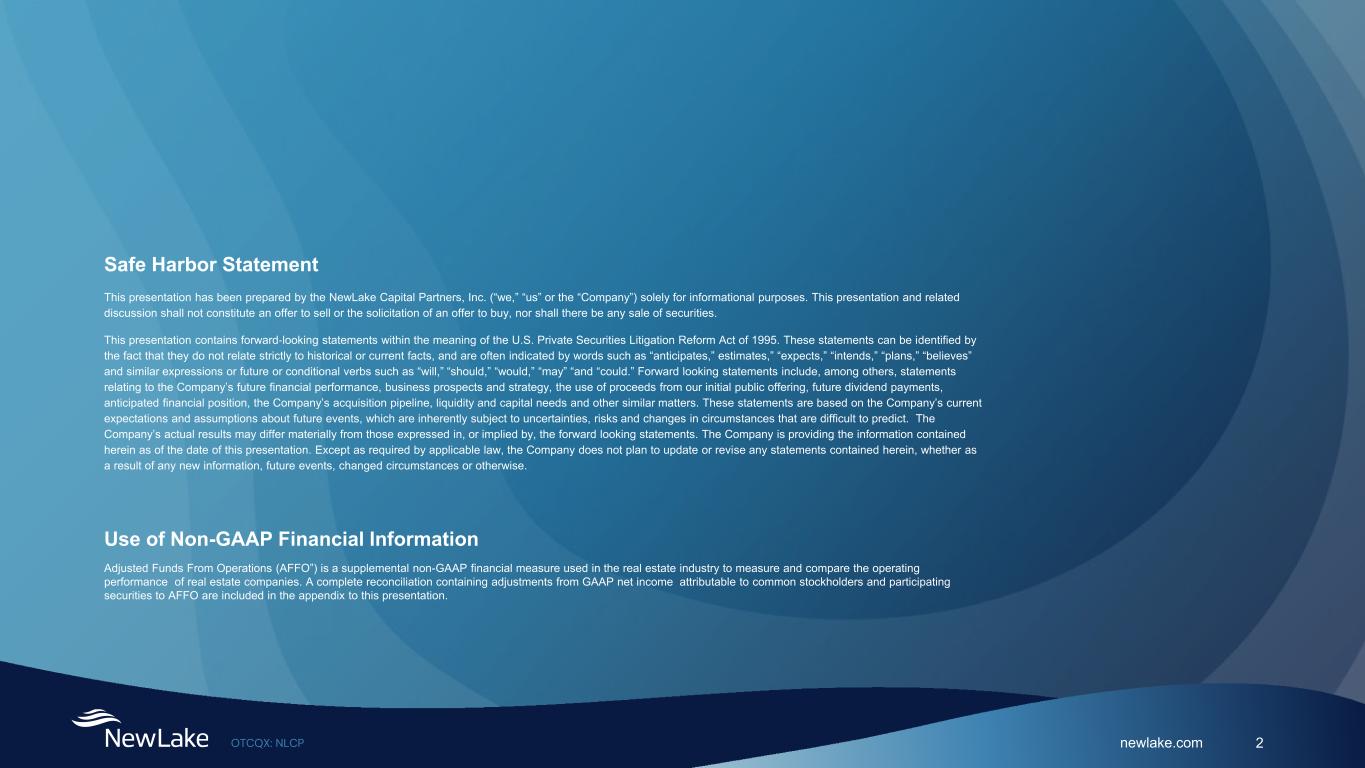 newlake.comOTCQX: NLCP 2 This presentation has been prepared by the NewLake Capital Partners, Inc. ("we," "us" or the "Company") solely for informational purposes. This presentation and related discussion shall not constitute an offer to sell or the solicitation of an offer to buy, nor shall there be any sale of securities. This presentation contains forward‐looking statements within the meaning of the U.S. Private Securities Litigation Reform Act of 1995. These statements can be identified by the fact that they do not relate strictly to historical or current facts, and are often indicated by words such as "anticipates," estimates," "expects," "intends," "plans," "believes" and similar expressions or future or conditional verbs such as "will," "should," "would," "may" "and "could." Forward looking statements include, among others, statements relating to the Company's future financial performance, business prospects and strategy, the use of proceeds from our initial public offering, future dividend payments, anticipated financial position, the Company's acquisition pipeline, liquidity and capital needs and other similar matters. These statements are based on the Company's current expectations and assumptions about future events, which are inherently subject to uncertainties, risks and changes in circumstances that are difficult to predict. The Company's actual results may differ materially from those expressed in, or implied by, the forward looking statements. The Company is providing the information contained herein as of the date of this presentation. Except as required by applicable law, the Company does not plan to update or revise any statements contained herein, whether as a result of any new information, future events, changed circumstances or otherwise. Safe Harbor Statement Use of Non-GAAP Financial Information Adjusted Funds From Operations (AFFO") is a supplemental non-GAAP financial measure used in the real estate industry to measure and compare the operating performance of real estate companies. A complete reconciliation containing adjustments from GAAP net income attributable to common stockholders and participating securities to AFFO are included in the appendix to this presentation.
---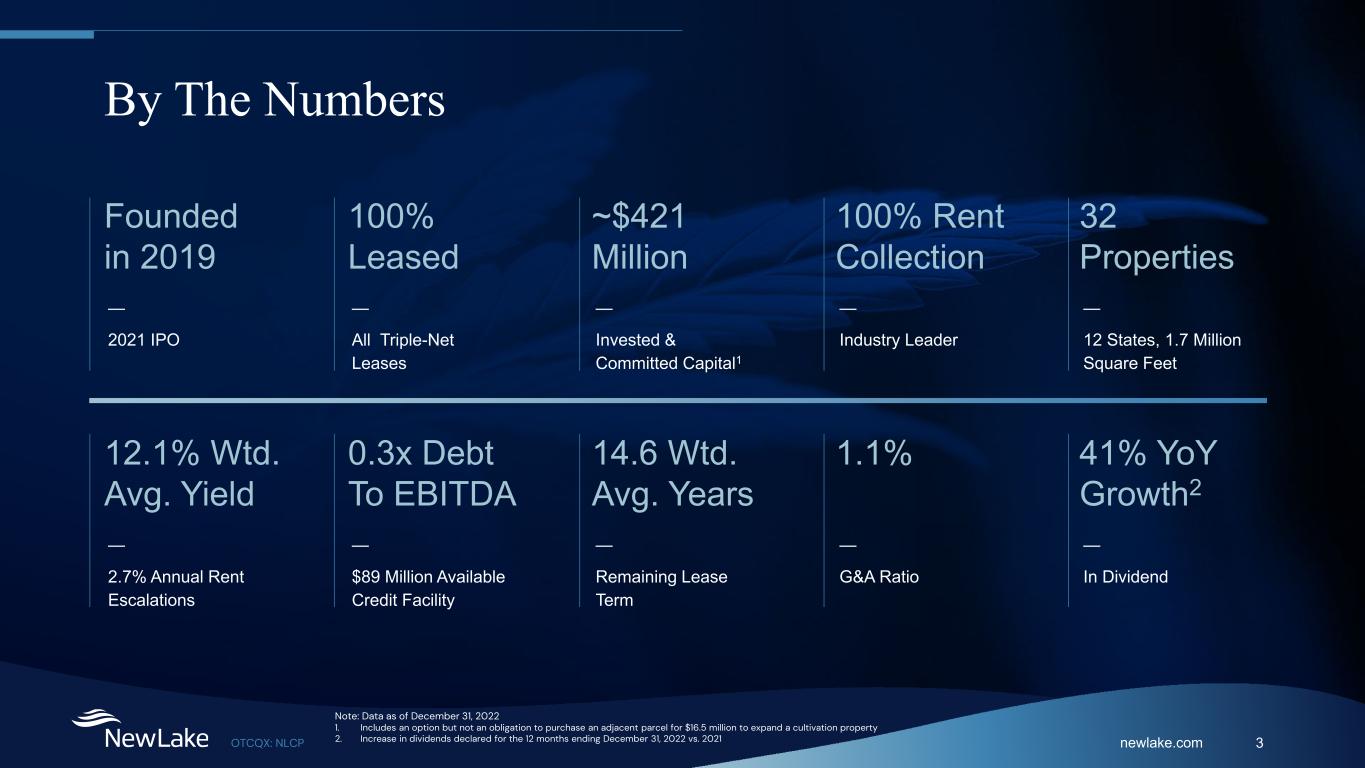 newlake.comOTCQX: NLCP 3 By The Numbers 100% Leased — All Triple-Net Leases Founded in 2019 — 2021 IPO ~$421 Million — Invested & Committed Capital1 100% Rent Collection — Industry Leader 32 Properties — 12 States, 1.7 Million Square Feet 0.3x Debt To EBITDA — $89 Million Available Credit Facility 12.1% Wtd. Avg. Yield — 2.7% Annual Rent Escalations 14.6 Wtd. Avg. Years — Remaining Lease Term 1.1% — G&A Ratio 41% YoY Growth2 — In Dividend Note: Data as of December 31, 2022 1. Includes an option but not an obligation to purchase an adjacent parcel for $16.5 million to expand a cultivation property 2. Increase in dividends declared for the 12 months ending December 31, 2022 vs. 2021
---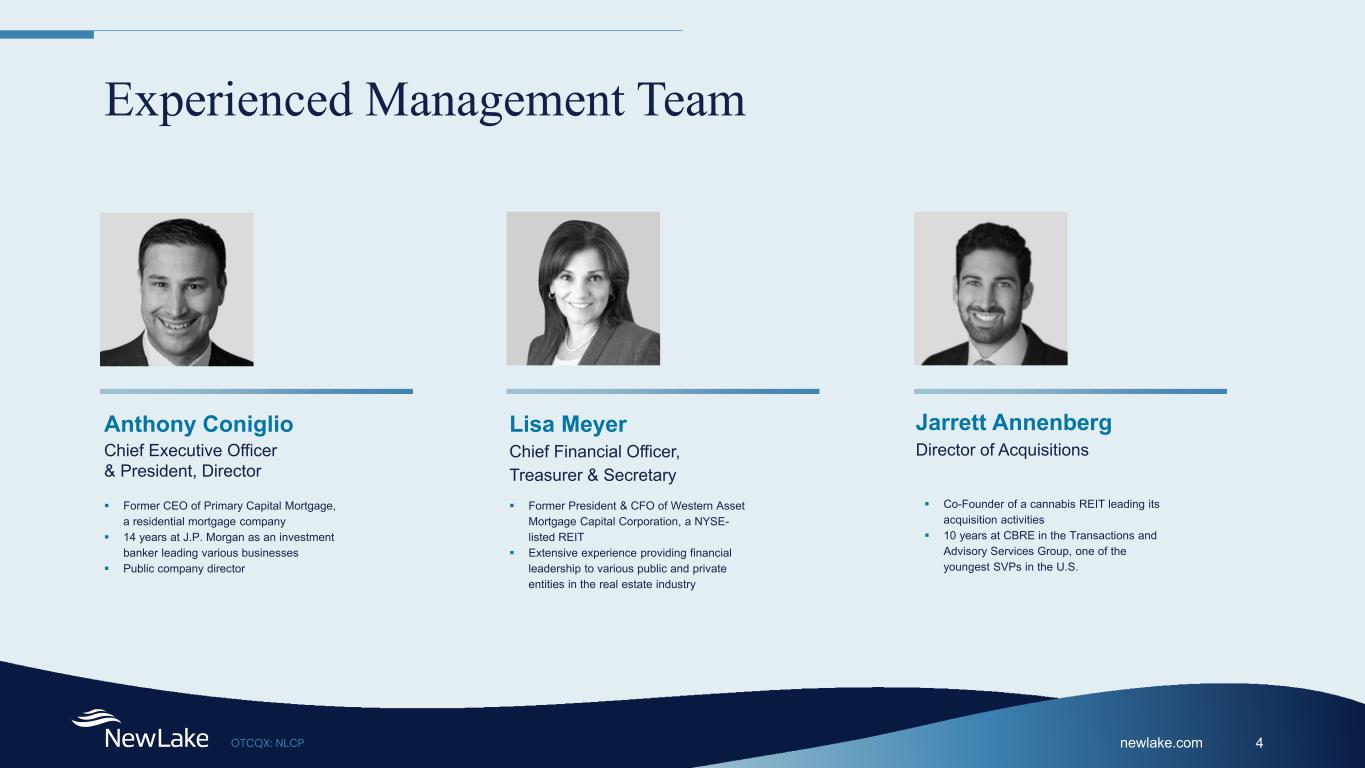 newlake.comOTCQX: NLCP 4 Experienced Management Team Anthony Coniglio Chief Executive Officer & President, Director Lisa Meyer Chief Financial Officer, Treasurer & Secretary Jarrett Annenberg Director of Acquisitions  Former CEO of Primary Capital Mortgage, a residential mortgage company  14 years at J.P. Morgan as an investment banker leading various businesses  Public company director  Former President & CFO of Western Asset Mortgage Capital Corporation, a NYSE- listed REIT  Extensive experience providing financial leadership to various public and private entities in the real estate industry  Co-Founder of a cannabis REIT leading its acquisition activities  10 years at CBRE in the Transactions and Advisory Services Group, one of the youngest SVPs in the U.S.
---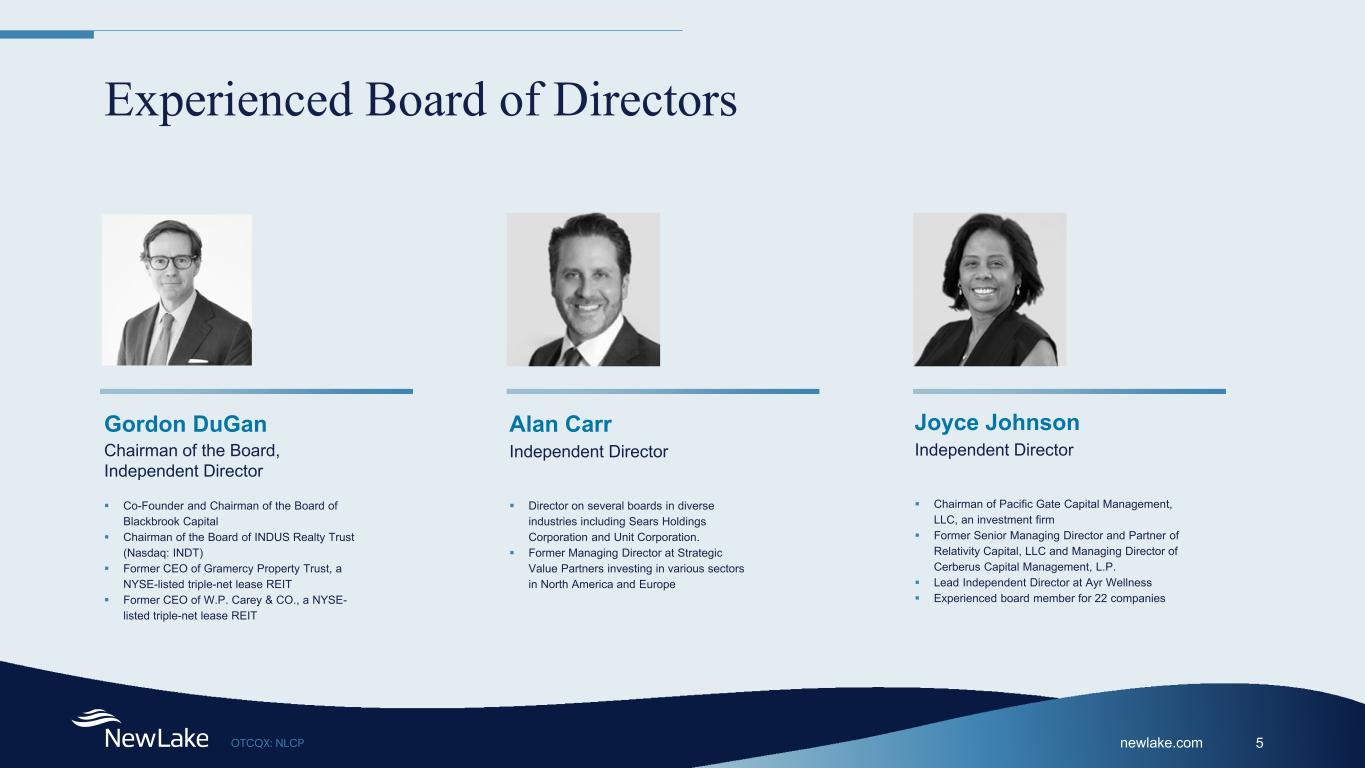 newlake.comOTCQX: NLCP 5 Experienced Board of Directors Gordon DuGan Chairman of the Board, Independent Director Alan Carr Independent Director Joyce Johnson Independent Director  Co-Founder and Chairman of the Board of Blackbrook Capital  Chairman of the Board of INDUS Realty Trust (Nasdaq: INDT)  Former CEO of Gramercy Property Trust, a NYSE-listed triple-net lease REIT  Former CEO of W.P. Carey & CO., a NYSE- listed triple-net lease REIT  Director on several boards in diverse industries including Sears Holdings Corporation and Unit Corporation.  Former Managing Director at Strategic Value Partners investing in various sectors in North America and Europe  Chairman of Pacific Gate Capital Management, LLC, an investment firm  Former Senior Managing Director and Partner of Relativity Capital, LLC and Managing Director of Cerberus Capital Management, L.P.  Lead Independent Director at Ayr Wellness  Experienced board member for 22 companies
---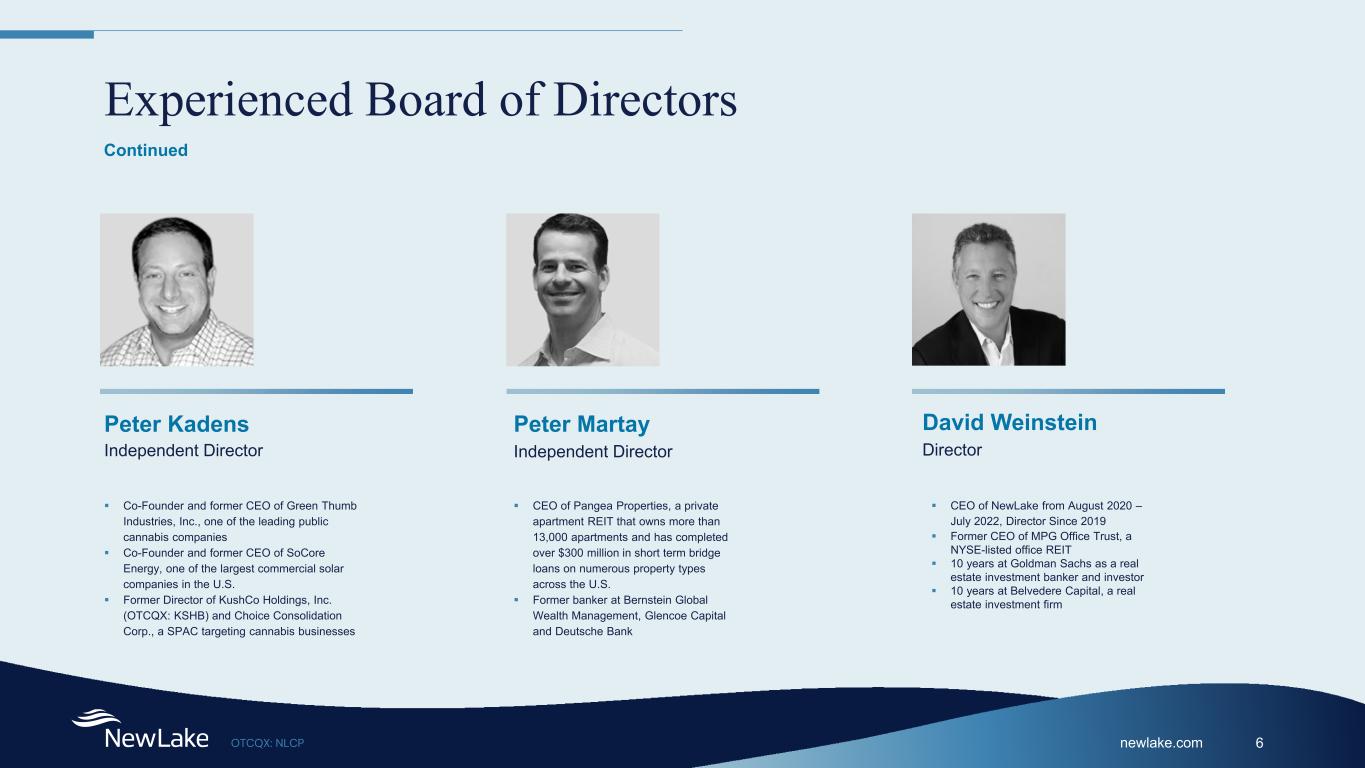 newlake.comOTCQX: NLCP 6 Experienced Board of Directors Continued Peter Kadens Independent Director Peter Martay Independent Director David Weinstein Director  Co-Founder and former CEO of Green Thumb Industries, Inc., one of the leading public cannabis companies  Co-Founder and former CEO of SoCore Energy, one of the largest commercial solar companies in the U.S.  Former Director of KushCo Holdings, Inc. (OTCQX: KSHB) and Choice Consolidation Corp., a SPAC targeting cannabis businesses  CEO of Pangea Properties, a private apartment REIT that owns more than 13,000 apartments and has completed over $300 million in short term bridge loans on numerous property types across the U.S.  Former banker at Bernstein Global Wealth Management, Glencoe Capital and Deutsche Bank  CEO of NewLake from August 2020 – July 2022, Director Since 2019  Former CEO of MPG Office Trust, a NYSE-listed office REIT  10 years at Goldman Sachs as a real estate investment banker and investor  10 years at Belvedere Capital, a real estate investment firm
---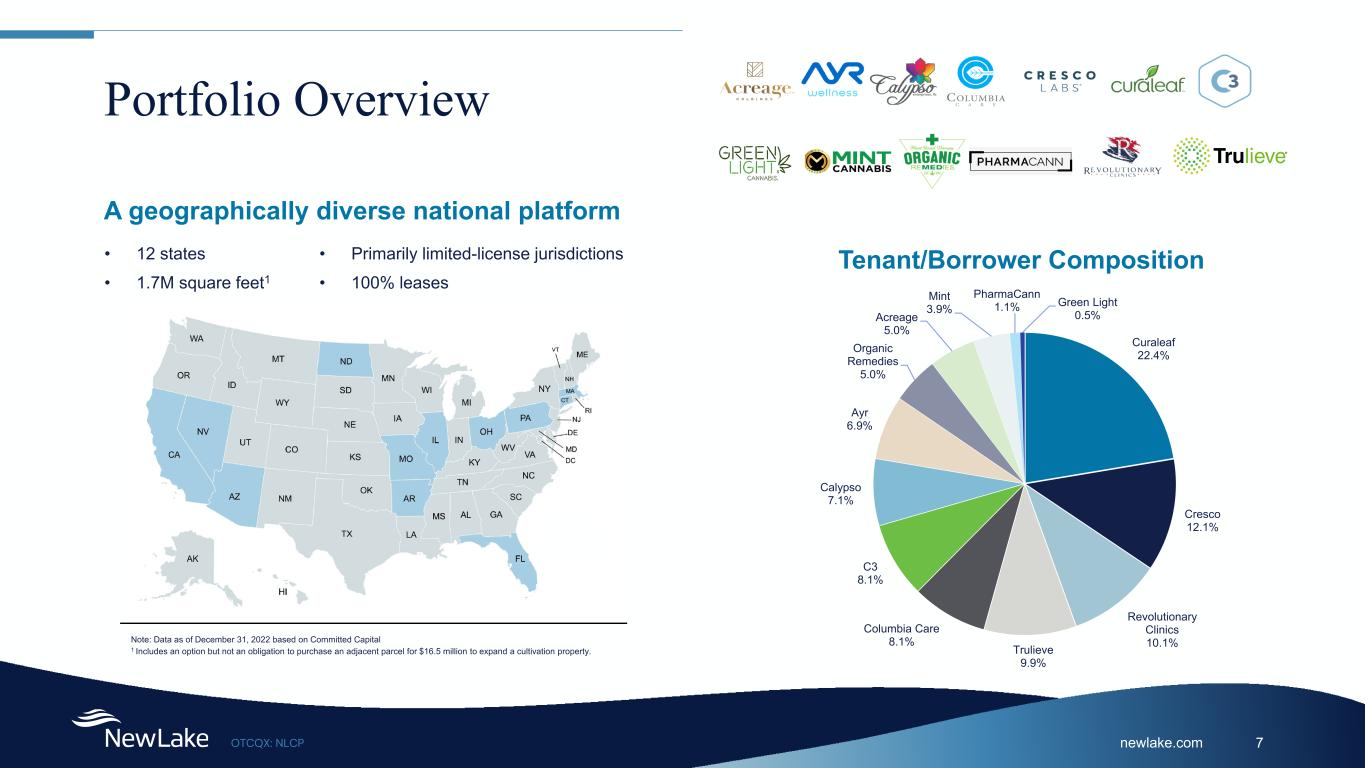 newlake.comOTCQX: NLCP 7 Portfolio Overview A geographically diverse national platform • 12 states • 1.7M square feet1 • Primarily limited-license jurisdictions • 100% leases Note: Data as of December 31, 2022 based on Committed Capital 1 Includes an option but not an obligation to purchase an adjacent parcel for $16.5 million to expand a cultivation property. Curaleaf 22.4% Cresco 12.1% Revolutionary Clinics 10.1%Trulieve 9.9% Columbia Care 8.1% C3 8.1% Calypso 7.1% Ayr 6.9% Organic Remedies 5.0% Acreage 5.0% Mint 3.9% PharmaCann 1.1% Green Light 0.5% Tenant/Borrower Composition
---
newlake.comOTCQX: NLCP 8 NewLake's Underwriting Approach Licensing Tenant Quality Real Estate Industry leading rent collection Emphasis on limited-license jurisdictions Better operating environment for tenant Created more value for real estate Strong financial profiles 64% Pubic, 36% Private Strong property level cashflows Above market four-wall coverage Most properties in/near major metropolitan areas 104 50 29 22 22 OR WA MA MO PA IL FL 10.4x 5.5x 3.5x 3.3x 2.9x 2.5x NLCP Retail NLCP Cultivation Ground Lease Hospital Gaming Net Lease Est. # of Licenses Operating1 Estimated Four-Wall2 Coverage Note: Data as of December 31, 2022, Data based on Committed Capital 1 Cultivation licenses sourced from state reporting and management estimates. 2 NewLake Four Wall coverage is calculated as property-level EBITDA+rent divided by rent. Estimates based on actual Q3 2022 property level financial information, when available, and management estimates based on Tenant reporting. REIT industry data based on Green Street Advisory Group U.S. Cannabis Sector Primer, November 2022 90.5% 9.5% Vertically Integrated Not Vertical Vertical Integration Within State
---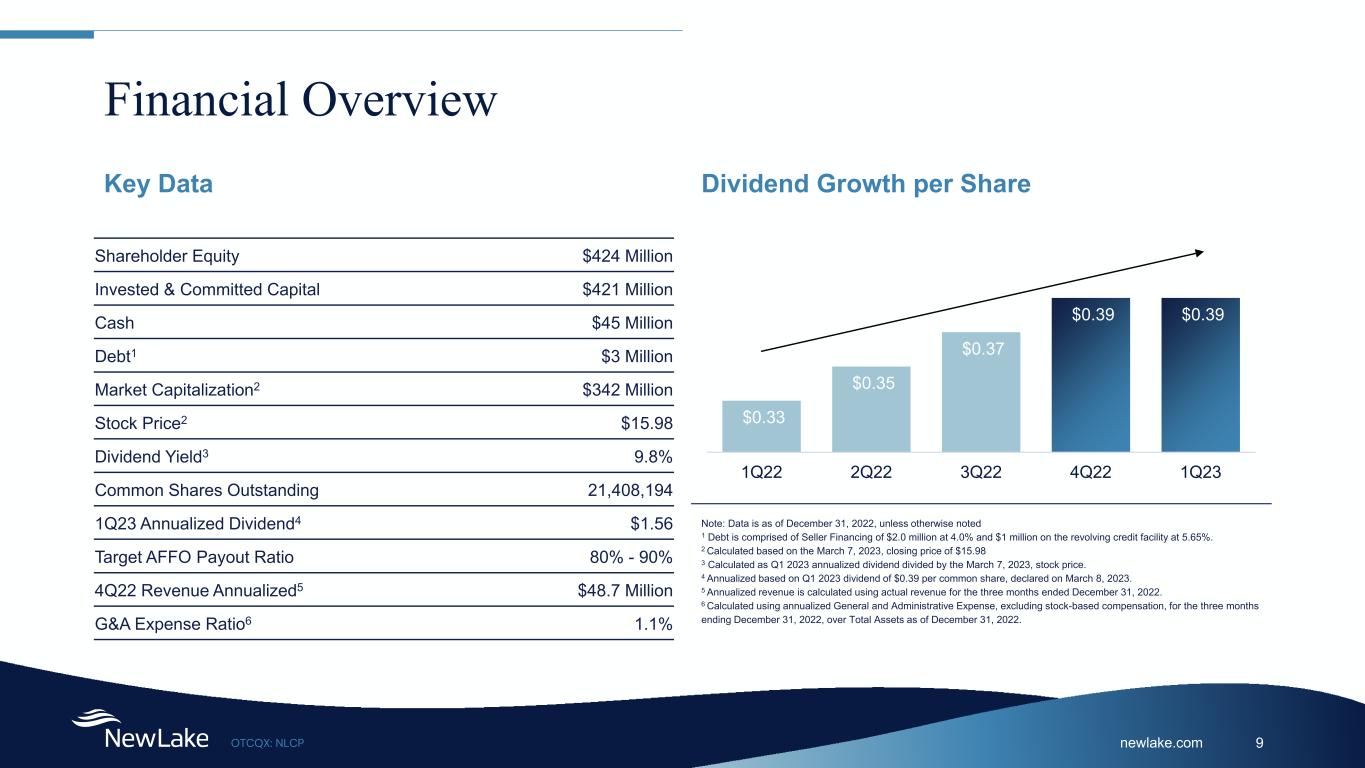 newlake.comOTCQX: NLCP 9 Financial Overview Shareholder Equity $424 Million Invested & Committed Capital $421 Million Cash $45 Million Debt1 $3 Million Market Capitalization2 $342 Million Stock Price2 $15.98 Dividend Yield3 9.8% Common Shares Outstanding 21,408,194 1Q23 Annualized Dividend4 $1.56 Target AFFO Payout Ratio 80% - 90% 4Q22 Revenue Annualized5 $48.7 Million G&A Expense Ratio6 1.1% Key Data Dividend Growth per Share $0.33 $0.35 $0.37 $0.39 $0.39 1Q22 2Q22 3Q22 4Q22 1Q23 Note: Data is as of December 31, 2022, unless otherwise noted 1 Debt is comprised of Seller Financing of $2.0 million at 4.0% and $1 million on the revolving credit facility at 5.65%. 2 Calculated based on the March 7, 2023, closing price of $15.98 3 Calculated as Q1 2023 annualized dividend divided by the March 7, 2023, stock price. 4 Annualized based on Q1 2023 dividend of $0.39 per common share, declared on March 8, 2023. 5 Annualized revenue is calculated using actual revenue for the three months ended December 31, 2022. 6 Calculated using annualized General and Administrative Expense, excluding stock-based compensation, for the three months ending December 31, 2022, over Total Assets as of December 31, 2022.
---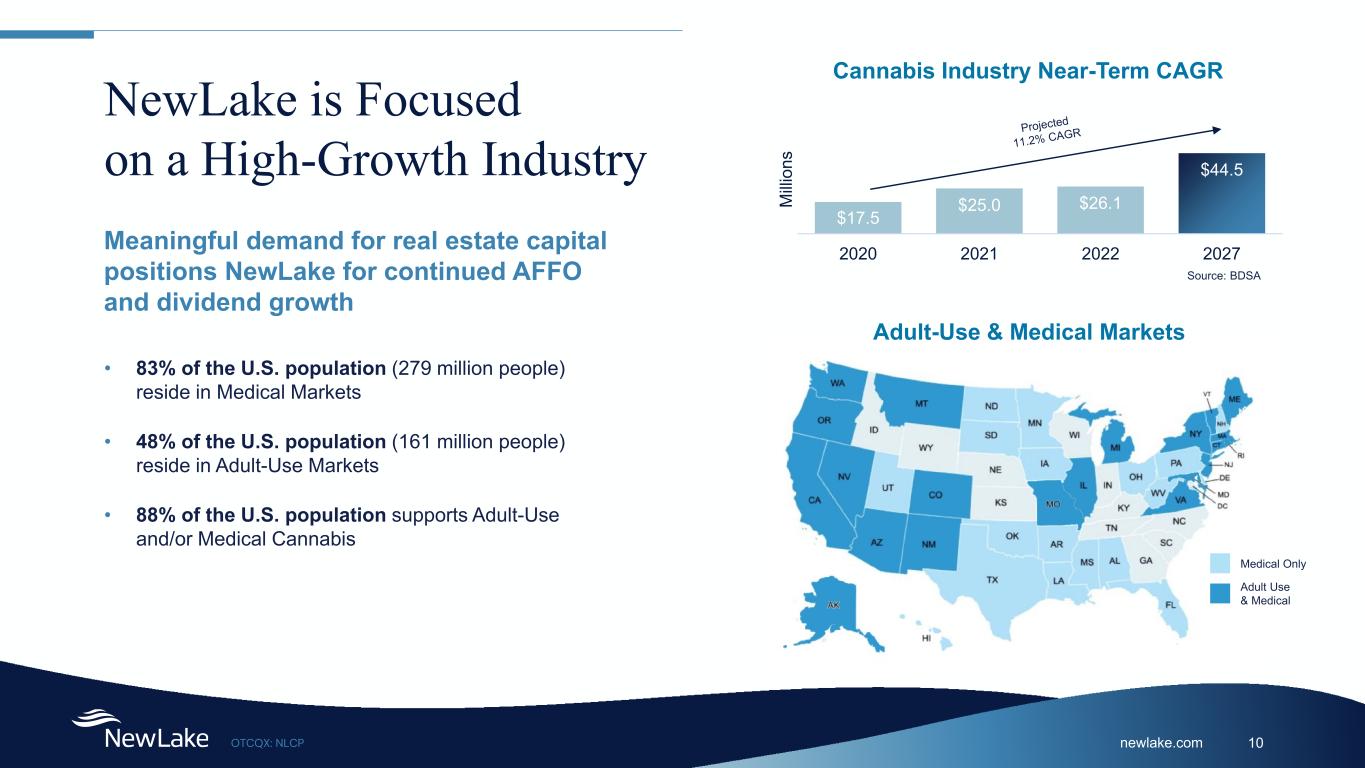 newlake.comOTCQX: NLCP 10 NewLake is Focused on a High-Growth Industry • 83% of the U.S. population (279 million people) reside in Medical Markets • 48% of the U.S. population (161 million people) reside in Adult-Use Markets • 88% of the U.S. population supports Adult-Use and/or Medical Cannabis Meaningful demand for real estate capital positions NewLake for continued AFFO and dividend growth $17.5 $25.0 $26.1 $44.5 2020 2021 2022 2027 M illi on s Cannabis Industry Near-Term CAGR Source: BDSA Adult-Use & Medical Markets Medical Only Adult Use & Medical
---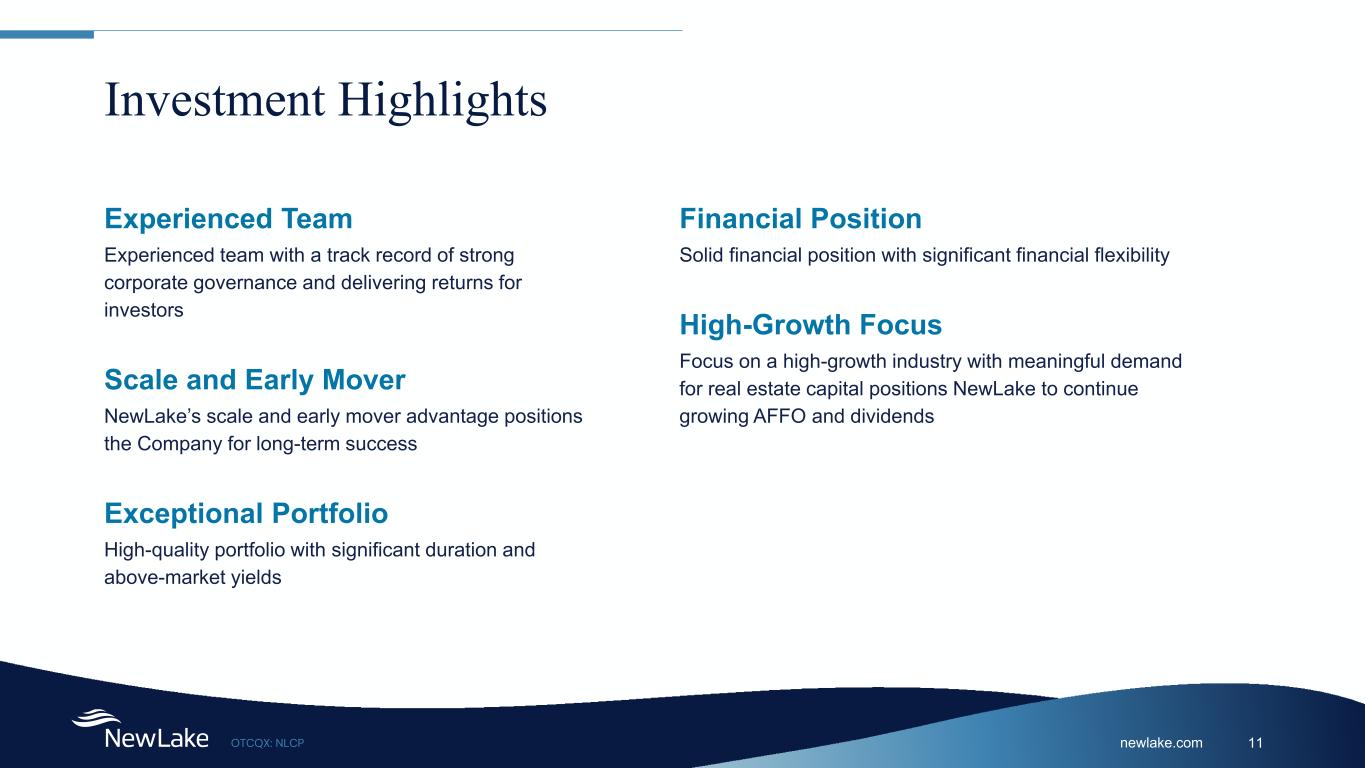 newlake.comOTCQX: NLCP 11 Investment Highlights Experienced Team Experienced team with a track record of strong corporate governance and delivering returns for investors Scale and Early Mover NewLake's scale and early mover advantage positions the Company for long-term success Exceptional Portfolio High-quality portfolio with significant duration and above-market yields Financial Position Solid financial position with significant financial flexibility High-Growth Focus Focus on a high-growth industry with meaningful demand for real estate capital positions NewLake to continue growing AFFO and dividends
---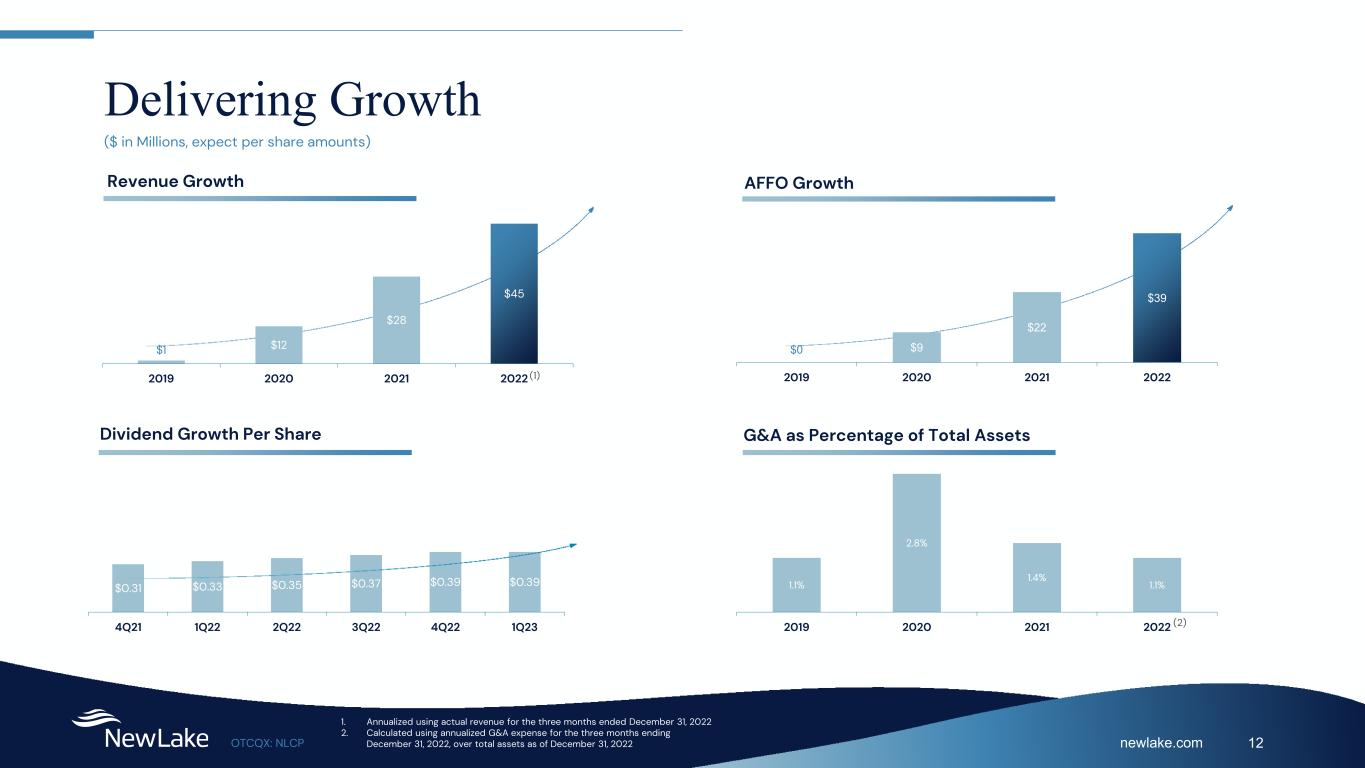 newlake.comOTCQX: NLCP 12 Delivering Growth 1.1% 2.8% 1.4% 1.1% 2019 2020 2021 2022 G&A as Percentage of Total Assets $0 $9 $22 $39 2019 2020 2021 2022 AFFO Growth $1 $12 $28 $45 2019 2020 2021 2022 Revenue Growth ($ in Millions, expect per share amounts) $0.31 $0.33 $0.35 $0.37 $0.39 $0.39 4Q21 1Q22 2Q22 3Q22 4Q22 1Q23 Dividend Growth Per Share (1) (2) 1. Annualized using actual revenue for the three months ended December 31, 2022 2. Calculated using annualized G&A expense for the three months ending December 31, 2022, over total assets as of December 31, 2022
---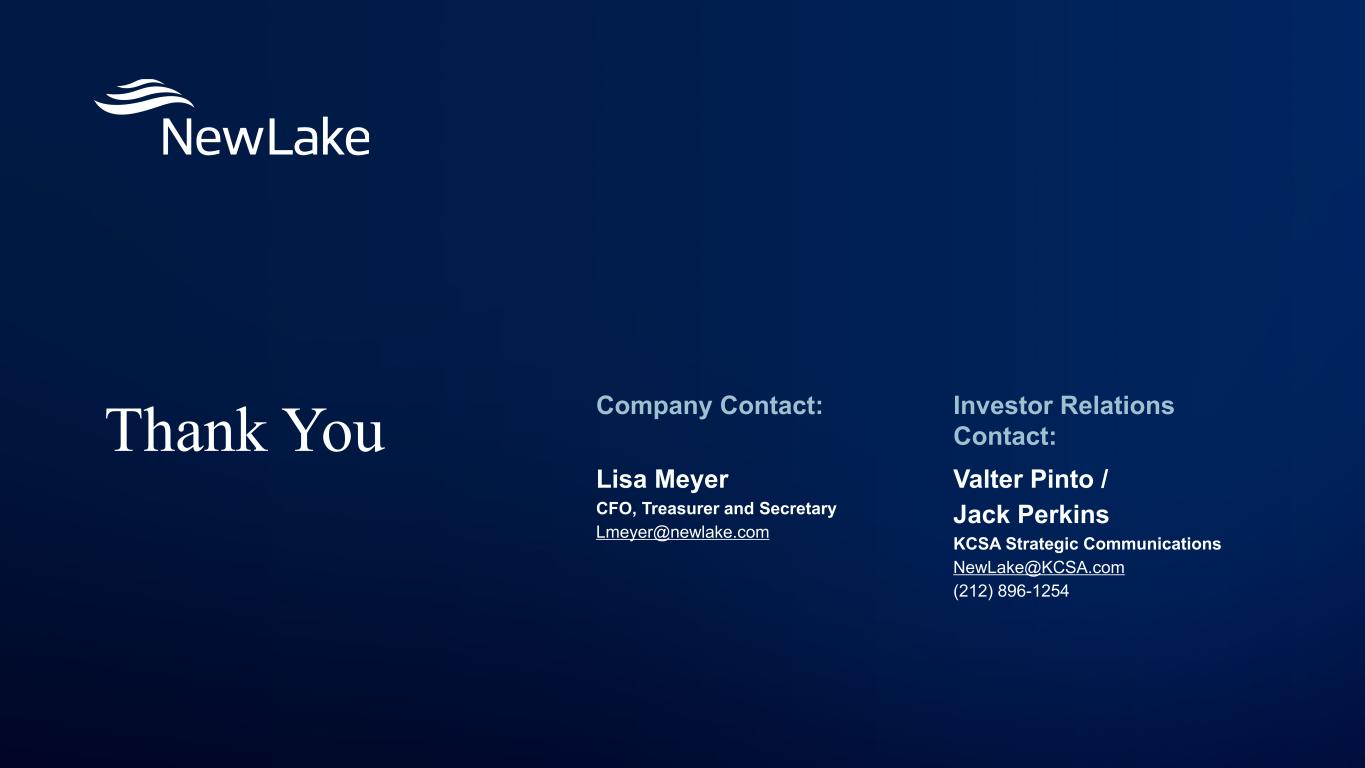 Thank You Company Contact: Lisa Meyer CFO, Treasurer and Secretary Lmeyer@newlake.com Investor Relations Contact: Valter Pinto / Jack Perkins KCSA Strategic Communications NewLake@KCSA.com (212) 896-1254
---